Online Bill Pay
Use Bill Pay to conveniently pay your bills from anywhere.
• Pay recurring, occasional and one-time bills
• Bill Pay for consumer accounts has a monthly flat fee of $4.95 per month, which includes up to 10 bill payments per month on each access ID that has enabled this service.
• Fees of .49¢ are assessed for each bill payment exceeding 10 per month.
• For business accounts, a monthly fee of $5.95 per month will apply and a fee of .59¢ is assessed for each bill payment exceeding 10 per month per access ID.
Bill Payment privileges are subject to additional terms and conditions, which are detailed in our Internet Banking User's Agreement.
Get Online... Not In Line
Totally Free Internet banking services are available to our customers.
Easy, Convenient Access to your Money! Anytime! Anywhere!
Free Online Banking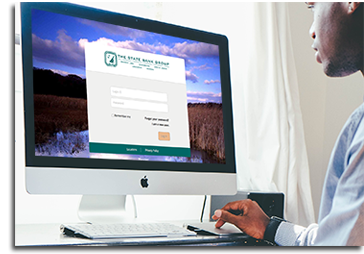 Take advantage of the convenience of Internet banking.
With our Internet banking service, you can:
• View latest account activity
• Transfer funds between accounts
• Send and receive secure electronic messages concerning your accounts
• Download account information directly into Microsoft Money
• Access convenient user services
• Inactive accounts will be discontinued after 2 months.
Start saving time and money today and sign-up now for Internet banking!
It's easy, secure, and there's no software to install on your computer.